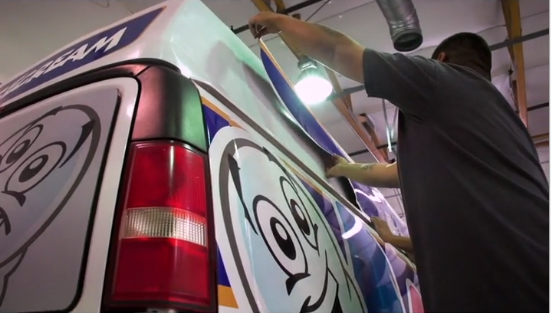 More and more businesses are starting to use car wraps for their marketing needs. With all of the benefits that come from what is essentially a mobile billboard, it's no surprise. Did you know that the average vehicle driven 15,000 miles per year can be seen by nine million other vehicles? Or that 95% of people in cars say they notice vehicles with advertising on them? Your vehicle already is a traveling billboard. Leaving it blank is a huge wasted opportunity. Here's why businesses are flocking to car wraps:
Customizable and Affordable
A car wrap is highly customizable. Our designs are made in Adobe Photoshop, so your wrap can be anything you want it to be and really bring out your business' personality. If you're looking to just change the color of your vehicle, a car respray is an expensive and labor-intensive process. It is also permanent, so you will have to live with the color of your choice for a very long time. Fortunately, there is another more cost-effective way you can change the look of your car. A car wrap allows you to see and test if a certain color works for you at a lower cost.
Protects Your Car's Paint
When your car's paintwork is damaged, a repaint is not always the best solution as it pulls the resale price of your car down. Of course, the best way to fix the problem is to avoid the problem in the first place. This is why you need to invest in a quality car wrap as it can protect your car's original paintwork from damage. It acts as a protective layer against small scratches and chips from stones and other roadside debris, which helps you avoid having to pay for minor scratch repairs. You only need to peel off the vinyl wrap to reveal the original paintwork of the car.
Removable Vinyl
Vinyl wraps are removable. This gives you the freedom to change the design if needed. However, the ease at which they can be peeled off depends on their quality. Quality wraps that have been taken care of are easy to remove and leave no glue patches on your car's surface. If you want to learn how to care for your vinyl, take a look at our article on How to Clean and Care for Your Wrap. Wraps with substandard quality may seem tempting at first because of their lower price, but they will cause you headaches in the future when it's time to remove them. They may even damage your car's paintwork.